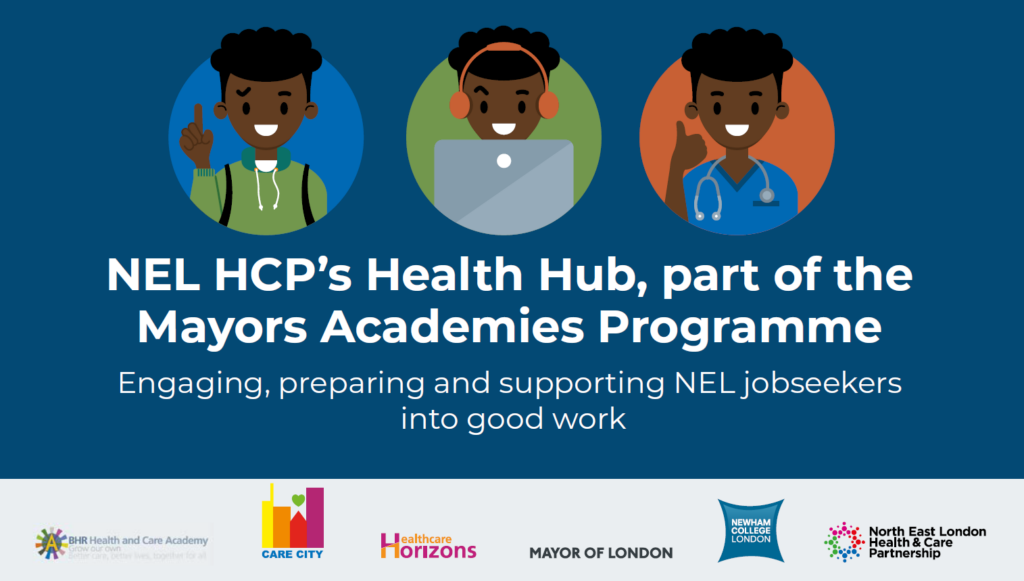 The Mayor of London is launching a new approach to jobs and skills, to help Londoners into good jobs in sectors key to London's recovery.
We're delighted to be supporting the North East London Health and Care Partnership (NELHCP) who have been selected to launch a Health Hub as part of the recently launched Mayor's Academies Programme. The £44m programme will support Londoners to gain the skills that they need to enter good work in the health, digital, green, hospitality and creative industries.
Alongside NELHCP, we partnered with Healthcare Horizons, BHR Academy, Newham College and NEL further education providers and job brokers to develop a comprehensive bid to establish a Health Hub for NEL boroughs that aims to:
Engage – Stimulating demand for health roles and engaging with the NEL community through schools, colleges and Job Centre Plus
Prepare – Building a talent pipeline for current and upcoming vacancies through pre-employment programme, vacancy-tailored courses and application development
Support – Nurturing the NEL community in their career pathways and signposting routes to promotion through apprenticeships, coaching and mentorship programmes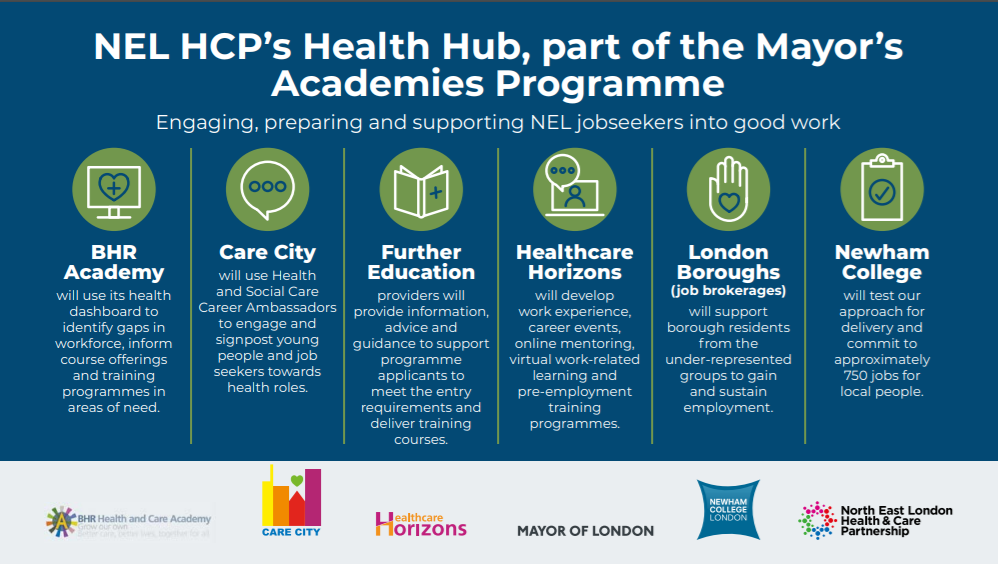 The Health Hub will receive £250,000 from the academy to engage, prepare and support NEL jobseekers into good work (direct employment, apprenticeships, or self‑employment/freelance). The Hub aims to support 750 individuals from underrepresented groups to find work. Agreements with NEL health employers to ring-fence job vacancies for Hub users have been signed, and Newham College and other further education providers have agreed to develop vacancy-tailored courses to enable applicants to secure these jobs. Additionally, the Hub will:
Work with employers to remove barriers and blockers in recruitment to ensure underrepresented groups have better access to jobs, and support Further Education to deliver health-focussed courses
Support development of career pathways to help fill vacancies with skilled people by nurturing talent to ensure retention and prepare individuals for higher level jobs
Raise the profile of the variety of health careers available to NEL communities and highlight routes into career pathways
The Health Hub will cover the NELHCP geography which includes 5 NHS hospitals, 1 clinical commissioning group, 8 local councils and 286 GP practices and aims to serve the 1.3m employable people across the partnership and align the largest health recruiters in NEL.