Care City Year in Review 2020/21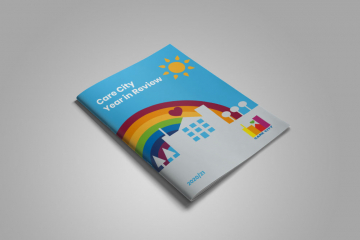 Our Annual Report shares updates on our work during the pandemic and introduces you to new members of the team.
It certainly wasn't the year we had planned for. The pandemic hit and along with the rest of the nation, we started looking at how best we could help and adapt to the challenges brought about by COVID-19. Our team adjusted to working from home, saying goodbye to our large office at Maritime House where we had been co-located with our NELFT colleagues since Care City launched in 2016. Although the team rose to the challenge of home working, it was important to all of us that we maintained physical roots in Barking. We are grateful to our partners at the Barking Enterprise Centre who offered us an alternative base whilst our new permanent home on Axe Street in Barking continued its development.
Some of our projects were temporarily paused or slowed while team members were redeployed to various roles to support the local system and the East London COVID-19 effort. However the pandemic did also result in an appetite to expedite access and implementation of technology to support actions such as remote monitoring in care homes – something we had already piloted with Feebris across East London. Therefore whilst some of our work necessarily paused, others catapulted forward, as we invested our energy in seeing how they could be fast tracked to best support patient care and the health and care workforce.
View report