Improving scheduling of District Nurses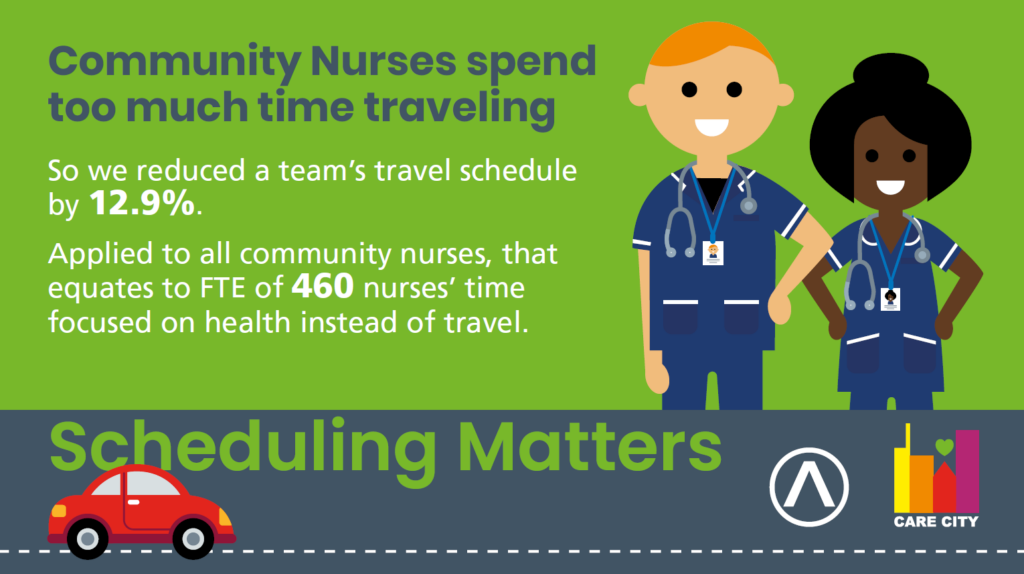 Automating scheduling for a complex District Nursing team with AI.
Community healthcare teams face many challenges. Existing digital scheduling tools are usually inadequate as the amount of decisions that have to be made, matching the right nurse to the right patient and ensuring they are available at the right time become extremely complex decisions. This makes coordination a full-time job, which is often assigned to a senior nurse with many years of experience.
With Satalia, Artificial Intelligence optimisation experts who help the likes of Tesco home delivery and Openreach, we are working to optimise scheduling, saving staff time, so they can focus on nursing duties, but also reducing travel times and coordinations.
We piloted the Satalia AI with the North East London NHS Foundation Trust and UCL. We automated scheduling for a complex District Nursing team, with the AI engine and reduced hours of coordination work into a few minutes. Schedules could be changed immediately if a nurse wanted to spend more time with a particular patient. Most importantly, unlike other systems where nurses have to rework schedules made by the computer as they were unrealistic, nurses felt that the Satalia AI reflected the decisions they personally would have made.
The Satalia AI also reduced travel distance and travel time by 12.7%. This would work out on average to a reduction in CO2 emissions by 48.72 grams per visit, which is the equivalent of over 10kg of CO2 per nurse each year. The system also used fewer staff to complete the needed visits.
Using Satalia's AI scheduling tool we reduced the staff needed to carry out current care tasks by 9%, that's the equivalent of freeing up 40,500 staff to deliver more care.
Seeing the benefits, we refined the Satalia AI engine with domiciliary care providers and managed to create a 38.6% decrease in their travel time and distance.
We are now applying for funding to be able to integrate the Satalia AI into NHS systems and create a feedback system where the AI is better at
anticipating how long visits will take.