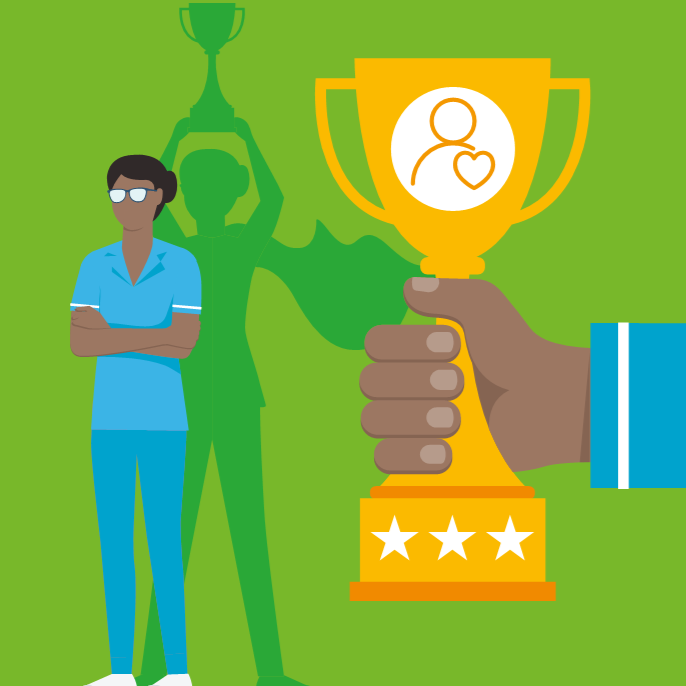 Supporting the social care workforce by creating enablement champions to support with health issues within care homes.
The Enablement Champion is an emerging role for experienced care staff who act as experts on particular health issues. They work alongside key health professionals to support the implementation of specific care plans and interventions put in place for service users. The nature of their specialism will depends on the needs of the service users and could relate, for example, to support provided by healthcare professionals such as psychologists, dieticians, podiatrist and therapists.
Aims of the project
To co-design a new 'Enablement Champion' role within the social care workforce in Barking, Havering and Redbridge, designed and led by care
Utilise the current level 4 apprenticeship training programme to build on the current 'champion' care model
Enable experienced care workers to become experts and influencers in the delivery of rehabilitation and reablement
Why is this important?
There has never been a more important time to support the social care workforce. This programme recognises the value of care staff and provides a career development route to a high level, supporting recruitment and retention of high calibre staff. This project provides a workforce transformation opportunity – creating new roles for care workers, enabling care staff to extend their competencies and enhance the care they provide.
Care recipients' needs are increasingly complex with many living with multiple long-term conditions. Close collaboration between care providers and health services can result in significant improvements for care recipients, increasing their independence and avoidance of acute care.
COVID-19 has shown how innovative deployment of the workforce can create solutions to increased health and social care demands. AHP capacity is limited and will be further stretched due to the rehabilitation needs of people recovering from COVID-19. This project increases capacity and consistency of AHP rehabilitation and reablement within care homes in BHR.
Enablement Champion apprentices will work closely with their Care Homes or Allied Health Professionals to support and deliver care plans with their residents. Through this collaboration and training, Enablement Champions will become competent in delivery of a number of clinical support skills including the understanding of the principles of rehabilitation and reablement and specific clinical skills training relevant to their place of work (e.g. nutrition, behaviour management, physical rehabilitation) and be competent in the development of effective referral pathways between the organisation and health services.
Enablement Champions will also act as the organisational lead promoting principles of rehabilitation and reablement within the organisation's everyday practice and they will support the team to develop their skills and understanding through information, training, and advice.
Challenges we faced
System wide effort on Covid-19 vaccination programme resulted in less resource available
Health and care pay inequity
Competition from other sectors
Selection and recruitment of care homes
Implementation of mandatory vaccinations in social care
Lessons we learned
Care sector instability and vulnerability to change
Offering training to the social care sector is helpful, but often not accessible due to the lack of adequate backfill to cover study leave
The role is potentially a system changer, however we won't be able to replicate and scale without a robust evaluation which requires staff time and resources
How do we scale this up?
The long term impact of this Enablement Champion role will depend upon commitment from the wider system. It requires sustained investment and commitment to develop and support the role, once the first cohort have completed training in 2023, through:
Recognising that the financial investment and organisational risk to make this work is largely being held by social care colleagues, although benefit is felt across health and care
Provision of backfill funding may enable employers to release staff for training and would provide greater stability and confidence for care home providers to take up this opportunity
Years 1 and 2 will require dedicated programme management to oversee stakeholder engagement, role promotion, cohort recruitment and coordination of a more in-depth impact evaluation