Focussed on the challenges of living with dementia today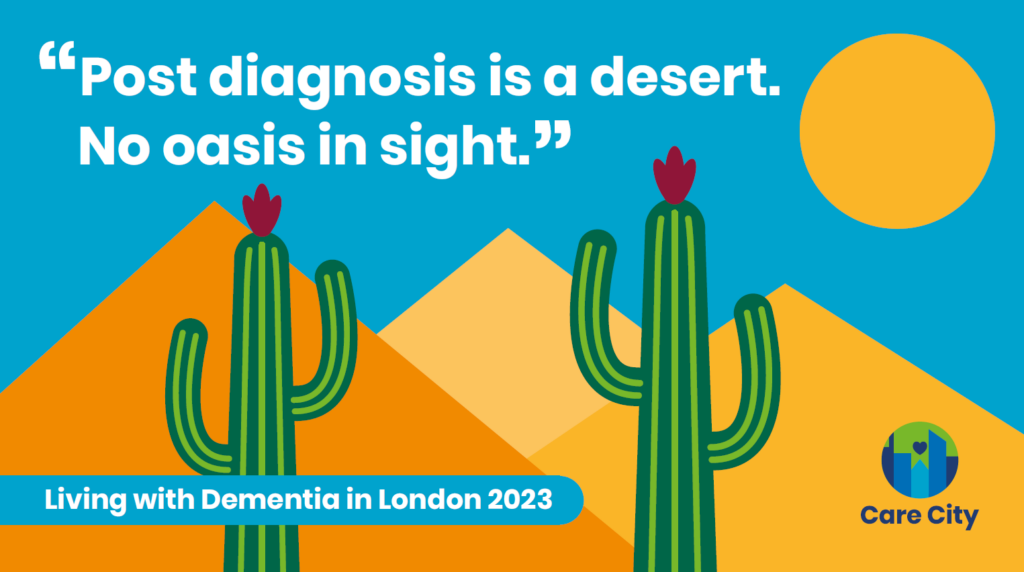 It's Dementia Action Week. Ben's blog looks at what we can do to help those living with dementia NOW.
In the past year, two new dementia treatments have been discovered, treatments that can slow some people's symptoms. It offers hope that people can spend more time being themselves with their loved ones and having their independence. But, some of the almost one million people with dementia in the UK will not have the type of dementia that these drugs treat, and some that do may consider the serious risks and side effects as too much for them. Even if the drugs were approved in the UK tomorrow, the health service is not prepared to administer them immediately. You need to find locations to treat people and train staff in how to use it.
So we need to act now to better support the current generation of people living with dementia. They are already a group living without hope. "Post-diagnosis is a desert," said one carer for his wife with dementia to me while interviewing people for a recent report into living with dementia in London.  
Only three boroughs in London provide a lifetime of support for people living with dementia after they receive a diagnosis. Many may struggle for years to get a diagnosis, to confirm what they have long believed to be true. Then only to find out, as far as many health services are concerned, that is the end of the support, not the beginning. Oh, and when we say 'lifetime', the average life expectancy is five to six years. 
The London Dementia Clinical Network (LDCN) has really listened. It has been working hard to develop a framework to ensure people can get an annual health check. This was one of the main things that came from the report that people wanted. Not a huge ask and it's in the national guidance, but it doesn't seem to be happening in real life. The LDCN is currently coming to the end of a pilot of the annual health check framework in a GP surgery in North London.
I've been working on the evaluation of these health checks, speaking to people, explaining the background of the pilot when they arrive and gathering their views after having their annual health check. It's been very emotional speaking to people. People walk in, sit down and cry. They say things like, "This is the first time I felt that someone was interested in us."
Almost everyone has a tweak to their medication. Some have been on the same medication for years. Many are exhausted caring for a condition that can often rob people of their sleep. Often carers are carers for more than one person. I met one person last year who looks after his son, who lives with a disability during the day and their mother, who has dementia and goes walking at night. He regularly only gets an hour or two of sleep each night. Imagine what that does to you mentally and physically.
For many, the pilot is the chance to be heard. Some with dementia are frustrated. Often from their perspective, people are picking apart the smallest part of their behaviour and blaming it on their dementia. They often try to minimise its impact on their life. Then the family member is frustrated, and they try to counter the downplaying of the condition. This might be the first medical professional they have seen in years, so they want to make sure that person understands their stress level.
I don't know if the framework the London Dementia Clinical Network is creating will be adopted in London. It seems to me that it is the minimum that we as a society should be doing. I hope it gets adopted and fast. At least those in the pilot are getting support. Those who go through it are so thankful and grateful to have been heard. I hope we can ensure it's clearly embedded in the next version of national guidance. It feels good to be doing something.