Rolling out a rehabilitation app for Long COVID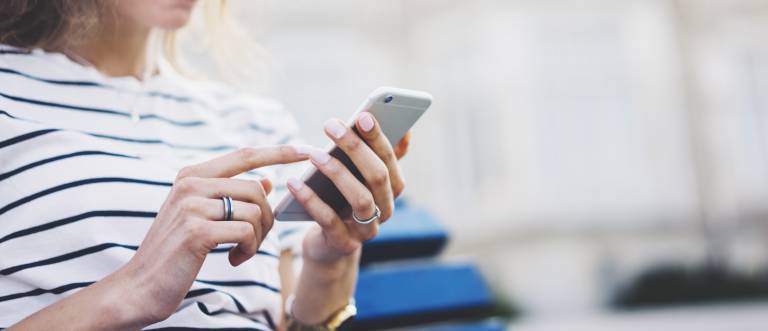 We are working with UCLPartners to support the adoption of an innovative digital programme, to treat the long-lasting symptoms of COVID-19 infection.
The tool, which is now helping patients in over 10 hospitals across 5 NHS trusts, targets patients who have been discharged but are continuing to recover and rehabilitate at home. By delivering rehabilitation completely remotely, the programme helps NHS staff support more patients than would normally be possible in a timely and cost-effective way. It is currently helping more than 150 patients with their recovery.
The programme, Living With Covid Recovery, has been developed by a team that includes UCL, Barts Health NHS Trust, and NIHR ARC North Thames in collaboration with NIHR ARC Wessex, University of Southampton, University of Exeter and health-tech start-up Living With.
The rehabilitation tool targets primary symptoms that 'long-haulers' report experiencing for many weeks and even months after the peak of their infection – such as fatigue, anxiety and breathing problems. It combines evidence-based methods from physiotherapists, psychologists, dieticians and respiratory physicians to create bespoke treatment plans for each patient.
Sophie, a patient who has been using the app since August, said "Five months after having Covid, I was still feeling very breathless and easily tired – even walks could frustratingly leave me coughing and wheezing. I have found the Living With Covid Recovery tool very helpful in tracking my progress and building up my activity levels. 
One of the most important aspects for me is the connection to support and advice from my own physiotherapist through the app, which has helped reassure me and feel that I'm not alone."
Following successful use across Barts Health NHS Trust, the project was awarded over £780,000 from the National Institute of Health Research (NIHR) to continue its expansion and help more patients in need.
It is exciting to see the programme beginning to spread across the regions and know that more patients experiencing the debilitating symptoms of Long Covid can access supported rehabilitation therapy to help them recover.

Long Covid is a miserable illness, with its fatigue, brain fog, breathlessness and mental health sequelae. These are all a direct result of the virus. But there are tried and tested ways of helping people with these symptoms and Living With Covid Recovery is designed to help clinicians deliver these treatments to large numbers of patients in a supportive fashion. We know that people who are using the digital programme feel supported by their clinicians and are seeing their symptoms improve.

Prof Elizabeth Murray, Deputy Director (Clinical) at UCL Institute of Healthcare Engineering
The programme includes tailored advice, treatment plans and suggested exercises through an app for patients. It also supports clinicians with a dashboard to review patient progress and communicate, and a clinical pathway for how to provide safe, remote support. The treatment is informed by a wide range of clinical expertise including respiratory specialists, physiotherapists, dieticians, psychologists and GPs. The app and dashboard have been developed by Living With, a private digital health company that already delivers a range of remote condition management products across the NHS.
The patients discharged often have very diverse needs and symptoms. Living With Covid Recovery is helping us reach out to as many of these in the community as possible to enrol them in the programme and support their recovery. With over 4m infections of COVID-19 in the UK since the pandemic began, there is a great demand for rehabilitation support.

Respiratory Physiotherapist Hannah Hylton, Barts Health NHS Trust
This study is one of many COVID-19 studies that have been funded by the NIHR as part of its Recovery and Learning call, totalling £5.5m in funding, to help better manage current and future waves of the COVID-19 pandemic and investigate its long-term impacts on the health and care system beyond the acute phase.