Showcasing Best Practice in Atrial Fibrillation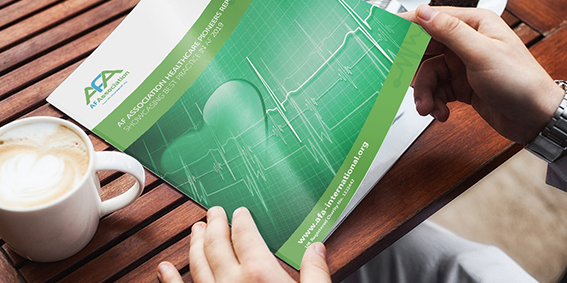 We've been announced as one of the AF Association Healthcare Pioneers Report 2019 – Showcasing Best Practice in AF winners for our project "A collaborative approach to AF screening and rapid resolution".
Trudie Lobban MBE, Founder and CEO of AF Association congratulated the 2019 winners stating "The AF Association Healthcare Pioneers Report 2019 demonstrates truly innovative best practice covering identification, diagnosis, management, treatment and care of patients with atrial fibrillation (AF), which we summarise as Detect, Protect, Correct and Perfect. Each year we share the Report with Commissioners and healthcare professionals across the NHS plus policy makers and MPs urging them to use these case studies as a benchmark to drive improvement in processes and patient pathways for the diagnosis, treatment, and care of AF patients."
The Report was released during the AF Association Global AF Aware Week which aims to raise awareness worldwide of atrial fibrillation. This year the focus is on promoting 'Know Your Pulse to Know Your Heart Rhythm.' Knowing your pulse can save your life, it is the easiest way to detect an arrhythmia (irregular heart rhythm). If your resting heart rate is irregular, too fast, or too slow, it is possible that you have an undiagnosed arrhythmia.
Our innovative One Stop Atrial Fibrillation (AF) Pathway finds people with undiagnosed AF, reduces the number of appointments needed to confirm diagnosis and waiting times for treatment. It utilises the accessibility of community pharmacists to identify people with undiagnosed AF, directly refer for specialist review, and if required, invite for an appointment at a one-stop AF clinic, substantially reducing the number of appointments and time needed to confirm diagnosis to receiving treatment, from 3 months to 2 weeks. It also demonstrates how public access to screening services and subsequent patient experience can be improved by delivering these interventions using digital innovation.